All teachers at Village Green Preschool are certified by the Massachusetts Department of Early Education and Care and/or have taken the required course in Child Growth and Development. They have had experience working in a preschool setting and possess an understanding and respect for young children. Teachers are expected to provide appropriate activities for the emotional, social, physical, and cognitive development of each child. Each month teachers attend staff training sessions and hold staff meetings to develop and share curriculum activities. Our staff/child ratio is a minimum of at least one teacher for every eight children.
Meet Our Staff
Karen Ormsbee, Director
…has a B.S. degree in Merchandising, Consumer Studies and Design from the University of Vermont and both a B.A. and M.A. in Landscape Architecture from Iowa State as well as her MA lead teacher and Director certification in early childhood education. She previously taught at University Child Care in New Mexico and has been at VGP for the past 17 years, with this year being her fourth as Director. Karen has two daughters (both VGP grads) and lives with her family in Sterling.
FUN FACT: The travel bug has bitten our two brave daughters – one has traveled to the Dominican Republic and Ireland; and the other to Kenya without either parent!
Jillian McAlevey, Assistant Director & Lead Teacher (MWF)
…has a B.S. degree in Fashion Marketing and Business from Immaculata University in Pennsylvania and is pursuing the necessary coursework for her MA lead teacher certification in early childhood education. This is Jillian's eighth year as a Co-Teacher, she served on the Parent Advisory Board and has previously worked with children on mission trips and as a swimming instructor. She has a son (VGP grad!) and lives with her family in Leominster. 
FUN FACT: I love to travel and have been to 23 states and 13 countries!!
Caitlyn Candiello, Lead Teacher (TuTh)
…has a Bachelor's and Master's degree from Fitchburg State University in Elementary Education with a minor in English Literature. Caitlyn joined VGP in 2021. Before joining VGP, she was a stay-at-home mom for many years.  Prior to that she taught fifth grade for seven years, tutored children in various grade levels and did substitute teaching. She has four children (three VGP grads) and lives with her family in Princeton.
FUN FACT: My family and I love hiking.  We hiked our first New Hampshire 4,000 foot mountain as a family and plan to do all 48 together.
Lori Schoolcraft, Co-Teacher (MWF & TuTh)
…has a bachelor's degree in Psychology from Plymouth State College and a master's degree in Elementary Education from Rivier College. Lori joined VGP toward the end of last year and has over ten years of teaching experience. She has also served on the Parent Advisory Board and as a substitute teacher at VGP. Lori is Yoga and Reiki certified and has already incorporated mindfulness and body awareness to our program. She has two older children, two beautiful grandchildren and lives in Sterling with her son, Maddox, who is a VGP alum!
FUN FACT: I've met Oprah Winfrey and have traveled to Maui over twenty times. I am a healer, trained in the art of energy movement (Reiki) and am currently writing a book about how to access higher states of consciousness. I am also a certified Yoga Alliance yoga teacher.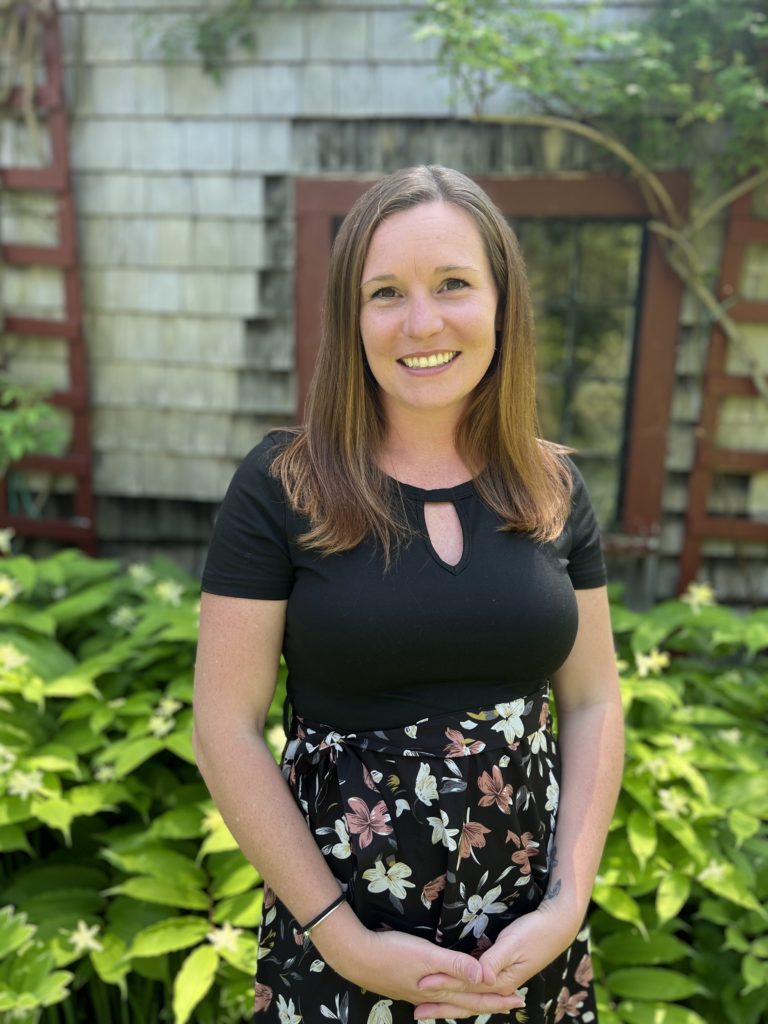 Amanda Stevens, Co-Teacher (TuTh)
…received her Bachelors of Science in Business Administration and Associate of Arts in Early Childhood Education from Liberty University (VA) and has been teaching dance at MEM Dance Theatre (formally Paula Meola Dance) for ten years. This is Amanda's third year as a co-teacher at VGP. She has served as a Parent Advisory Board member, parent volunteer and substitute teacher at VGP. Her two younger brothers attended VGP and then two of her children attended. Amanda has a son and two daughters and lives with her family in West Boylston.
FUN FACT: While my husband was in the Marine Corps I lived in southeast coastal Georgia and then Southern California, but no place compares to New England, which is why we came back!
Kaiya Correia, Co-Teacher (MWF)
…has a Bachelor's degree from Bridgewater State University in Special Education with a Concentration in Communication Disorders. Kaiya joined the VGP community as a parent in 2021, served on the Parent Advisory Board and is a new member of the teaching team for 2023. Before VGP, she worked at a Special Education school for almost a decade and after having children of her own provided private childcare in her home. She has two children (one VGP grad and one currently enrolled student) and lives in the neighboring town of Clinton. 
FUN FACT: Spiders, skulls and all things spooky are a favorite in the Correia household and they decorate for Halloween each year at the end of August (for her younger child's birthday).