All children aged 2.9 years or older at the start of our school year are welcome to enroll in Village Green Preschool! The school year begins the week after Labor Day and ends just prior to Memorial Day.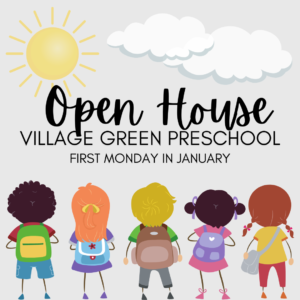 Annual Open House
Village Green Preschool hosts an Open House each year, usually on the first Monday in January. This gives parents an opportunity to visit our classroom, meet our staff and hear more about our program in person. In the meantime, our Day at Village Green video provides insights to our learning approaches, curriculum, and ways we engage in play. Our VGP Tour Video shows off our classroom's many areas to play and learn with preschool friends.
New Offerings for 2023-2024 School Year
Starting in September 2023, Village Green will be changing our hours to better serve our community! Our new program offerings include half day and full day options for 2, 3, or 5 days a week, providing a lot of flexibility to our families. In addition to our 9 am – 3 pm class hours, we will also be offering extended mornings or afternoons. The fall will also bring reduced class sizes (20 students per class) and an even lower teacher to student ratio (1:6.6).
Registration
Registration is held in early January, usually the week of the Open House, for the following September and thereafter on a space available basis. We encourage interested families to enroll promptly, as spots fill quickly. A student is registered upon receipt of a completed registration form and a non-refundable $85 registration fee. Registration forms are available beginning the week of the Open House. The first tuition is due in April.
The Parent Advisory Board hosts a Welcome Playdate in late August at a local park. Classroom orientation for new students and their parents is held in early September. Children who enroll mid-year participate in an informal orientation with a parent prior to attending their first class.
Tuition
Tuition is set by the VGP Parent Advisory Board each year in March. Village Green is a nonprofit outreach program of the First Church and we make every attempt possible to keep tuition costs stable and affordable for the families in our community.  The tuition for 2023-2024 school year starts at $250 a month for our two half-day sessions per week classes. Tuition and the $85 registration fee are nonrefundable. Please contact the preschool for full tuition rates.